The hotel set the pint-sized meeting room with 180 square meters, which can hold about 20 people,on the 10th floor, 13th floor, 16th floor, and 19th floor separately according to the requirement of commercial customers. It can provide you a quiet and comfortable environment. Specialty lavatory, garderobe and dressing room are masterly set for you in the meeting room, which reflect dignity and elegance to make you feel vital force and energy everywhere. It's your best choice of commercial negotiation.
Special person and special upholstery provide you a characteristic and professional conference service.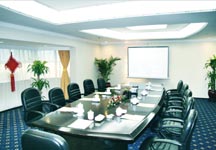 Equipped facilities: Tea and folders for free;
Equipped with whiteboard, telephone, high-speed Internet interface etc;
Equipped with projector etc., it will be charged according to actual use.